Basketball Coaching Staff
Head Coach Stephanie Beason
sbeason@cottey.edu
417-667-8181 ext: 2237Head Basketball Coach and Comets Athletic Director Stephanie Beason enters her
third season at Cottey College.
Potential is the word for the 2016-2017 Comet basketball program. We have taken a step in the right direction with recruiting. I feel that overall we are more talented this year compared to years past; we have a ton of potential and great team chemistry. The key for us is going to be consistency with the little things. The little things take heart, the drive to want to do it and desire. The little things aren't always going to get your name in the paper, but they are the things that will win us games and get us to a regional championship game. The overall goal this year is to see progress from the past two seasons. My first season at Cottey we entered the region tournament as a 4 seed. Last year we were the 3 seed. Our progression goal this year is to get to the championship game and if we get there and compete, we could possibly see Cottey return to campus at the end of the season with its first ever region 16 championship trophy.
The comets lost key players Sydney Rose and Amber Harper from last year's squad due to graduation, but have a great nucleus of players returning for their sophomore campaign. Kelsey Acton, leading scorer, rebounder and first team All-Region selection from last year's team has been selected as a team captain for this season. Cheyenne Ortiz (8 ppg, 7 rpg) has been chosen as the other team captain. Kasey Acton, Dezha Parker are the other returning players on the team. "Kasey has always been an effort player for us. She's the player that will do the little things for us and will be a spark of energy in the game." "Dezha saw limited playing time for us last year but is expected to be our lock down defender and gives us a much needed slasher on the offensive end."
Prior to her work at Cottey, Beason spent three years as the head women's basketball coach and an adjunct professor of exercise science at Ancilla College in Donaldson, Indiana, previously coaching at Highland Community College in Kansas. She spent her college playing days at North Central Missouri College (NCMC) in Trenton, Missouri. At NCMC, Beason was a NJCAA First-Team All-American in 2004, making her the first, First-Team All-American in school history in any sport. In both years at North Central, Beason was a First-Team All-Region XVI selection.
Assistant Coach Blaklee Sanders
bsanders@cottey.eduBlaklee Sanders enters her third season as assistant coach for the Comets basketball program.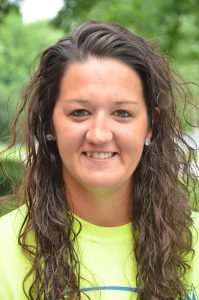 Sanders is no stranger to the Cottey Comets basketball program. Her stint at Cottey began in 2011 when she became a member of the Comet basketball program, earning Second Team All-Region honors that first year. During her sophomore season, she earned First Team All-Region honors, and was the leading scorer and rebounder for the team, with 16.4 points per game, and 8.7 rebounds per game. The 2012-2013 Comets also had their most successful team showing to date, ending with a record of 16-4.
After earning her associate in science and arts degree from Cottey in 2013, Blaklee intended to continue her basketball career at a four-year liberal arts institution, but a career-ending injury during a preseason scrimmage altered her plans, and brought her back to Cottey to complete her Bachelor of Arts degree in psychology in May 2015.
Returning to Cottey also brought with it the chance to coach and learn alongside head coach Stephanie Beason, honing many of the leadership skills she developed during her time at Cottey. Sanders is excited for her third season in this position, which she does alongside her role as a residence hall director at Cottey. Beyond these opportunities, Blaklee hopes to eventually earn a master's degree in social work to become a counselor.