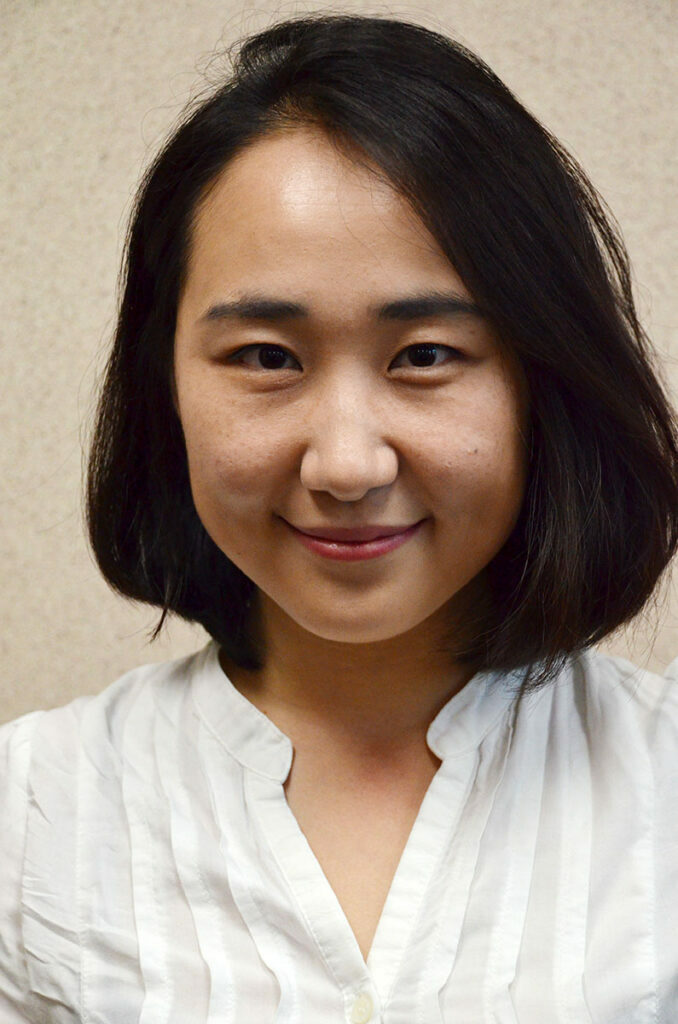 KOWOON LEE, D.M.A.
ADJUNCT ASSISTANT PROFESSOR OF MUSIC
A native of South Korea, pianist Kowoon Lee earned her Doctor of Musical Arts in piano performance at the University of Missouri-Kansas City with Dr. Thomas Rosenkranz and Dr. Robert Weirich. She studied at Indiana University for her Master of Music and Performer's Diploma with Dr. Karen Shaw.
Before studying in the United States, Dr. Lee finished her Bachelor of Music from Sookmyung Women's University in Seoul, South Korea, with Dr. Hyesoo Jeon, and graduated from the Chungnam Arts High School with Jinyi Yang.
Additional Information
At the age of 16, Dr. Lee made her solo debut with the Chungnam Symphony Orchestra. She has since performed internationally, including South Korea, USA, Italy, and Czech Republic, with many orchestras and ensembles, including the Seoul National University Orchestra, the Romanian Banatul Timisoara Philharmonic Orchestra, the Sookmyung Festival Orchestra, the Janacek Concert Chamber Orchestra, the UMKC Conservatory Orchestra, and the Kansas City Ballet.
​A strong advocate of new music, Dr. Lee has worked with many renowned living composers, such as Chen Yi, James Mobberley, Juri Seo, Vera Ivanova, Karan Tanaka, and Gabriela Ortiz to name a few. She specializes in music by women composers. Her doctoral research project involved piano music written by women composers, and included original research and a recording, which has been selected to present at many international conferences and festivals. She presented her lecture-recital "21st Century Music for Solo Piano by Living East Asian Women Composers" at the 2018 Women Composers Festival of Hartford (Hartford, Connecticut), at the 10th World Piano Conference (Novi Sad, Serbia), and the Faculty Lecture-Recital (Nevada, Missouri).
​Dr. Lee has also participated in several music festivals, such as the 16th J&R Music Academy, the 4th Eumyoun Piano Academy, the 4th Rebecca Penneys Piano Festival, and the 2018 PyeongChang Music Festival (with an On-site Translator/Interpreter Assistantship) as a student participant. Through these festivals, she had many great opportunities to work with well-known musicians, such Yong Hi Moon, Soo-Jung Shin, Freddy Kempf, Jinsang Lee, Klaus Schilde, Sontraud Speidel, Christopher Harding, Rebecca Penneys, Blanca Uribe, Thomas Schumacher, Dmitri Shteinberg, and Francois Thinat.
​As a devoted educator, Dr. Lee participated in the 90th Interlochen Arts Camp as a teaching assistant, where she coached the advanced juniors' chamber groups and organized their public concerts, taught intermediates piano skills class, monitored students' practice sessions, and became students' mentors. She also served as a Graduate Teaching Assistant at UMKC for three years and previously worked as an Associate Instructor at Jacobs School of Music, Indiana University, where she taught group piano classes and applied/private piano lessons for undergraduate and graduate students in music major as well as in non-music major. She presented her research "Tools and Techniques to Improve Sight-Reading Skills" at the Music Teachers National Association 2017 national conference (Baltimore, Maryland). Through her teaching experiences, she has been learning not only how to teach music, but more importantly how to communicate with students and parents, how to assist professors, and how to collaborate with colleagues.
​In both her academic and professional life, Dr. Lee is organized, responsible, active, enthusiastic, and positive. She founded the student organization, the UMKC Pianists, in order to promote professionalism, and to provide more performance opportunities by arranging benefit concerts. As a former president of the Alpha Kappa chapter of Mu Phi Epsilon, a co-ed international professional music fraternity, at University of Missouri-Kansas City, she has arranged and performed monthly concerts at the several venues for Kansas City community.
​Dr. Lee also enjoys an active schedule as a collaborative pianist as well. She has worked with the annual Concerto/Aria Competition at University of Texas Rio Grande Valley since 2017, and was invited to perform at the 2017 national conference of the Society of Composers, Inc. (Kalamazoo, Michigan). She served as a collaborative pianist at the 92nd Interlochen Arts Camps, and was invited to be a collaborator for the 2020 Puerto Rico Summer Music Festival and Puerto Rico Flute Symposium. She recently co-founded Duo Century, a women's trumpet and piano duo. Duo Century seeks to promote trumpet music by women composers (TMWC project), and they have been invited to present their lecture-recital "The Visual and Aural Connection: Trumpet Music by Women Composers in the 21st Century" at the 2022 International Women's Brass Conference. She is also a co-founder of Duo Confluence, a flute and piano duo, to promote commissioned and underrepresented repertoires. Dr. Lee is an Adjunct Assistant Professor of Music at Cottey College and a committee member of the Puerto Rico Center for Collaborative Piano.