About Us
National Advisory Council
On April 26-27, 2013, Cottey College hosted an on-campus, inaugural meeting of the National Advisory Council to the Institute for Women's Leadership and Social Responsibility.
The Council is presently comprised of nine outstanding women educators and leaders from around the nation who will each serve a three-year, rotating term. The following members have been appointed to the Institute's National Advisory Council:
Dr. Beverly Everett, Music Director of the Bismarck-Mandan and the Bemidji Symphony Orchestra, who resides in both North Dakota and Minnesota and is also a P.E.O.
Marilyn Kredel, concert pianist with the Phoenix Symphony, and P.E.O. who resides in Paradise Valley, AZ.
Deborah Churchill Luster, former president and CEO, vice-chairman of the board, and co-founder of Annies' Home-grown, Inc. and now President of Can Do Kid, Inc., who resides in Mill Valley, CA.
Sue Vicory, accomplished documentary film-maker, who lives in Del Mar, CA.
Donna Shavlik, who lives in Estes Park, CO and a former Board of Trustee for Cottey College and past director of the ACE's former Office of Women in Higher Education.
Dr. Rita Stephan, foreign affairs officer at the U.S. Department of State and a visiting researcher at the Center for Contemporary Arab Studies, who lives in the Washington, D.C. area.
Contact Us
Serenbetz Institute for Women's Leadership, Social Responsibility and Global Awareness
1000 West Austin, Nevada, Missouri 64772
Telephone: (417) 667-8181 ext. 2116
Email: institute@cottey.edu
Faculty and Staff
Denise Carrick Hedges, Director of Leadership Development
417-667-8181, ext. 2116
Denise serves as the director of leadership development at the Serenbetz Institute for Women's Leadership, Social Responsibility, and Global Awareness. In this role, Denise works with the students in the Leadership, Experiences, Opportunity certification program and coordinates other leadership initiatives through the Serenbetz Institute. Her bachelor's degree in Interpersonal and Organizational Communication is from Manchester University in North Manchester, Indiana. Denise earned her Master in Strategic Leadership in Business at Stephens College in Columbia, Missouri.
Jamie Bloomfield, Administrative Assistant
(417) 667-8181, ext. 2116
Jamie joined Cottey in the fall of 2017 to serve as an administrative assistant to those working on Serenbetz Institute initiatives and projects. Jamie received her Associate of Science degree from Fort Scott Community College. She is dedicated to the work of helping others, including helping Cottey students as they work toward their leadership development goals. While working at Cottey, she plans to pursue her bachelor's degree in Criminology.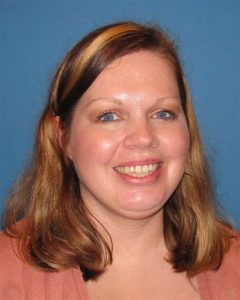 Carol Clyde Gallagher, Assistant Professor of Organizational Leadership
(417) 667-8181, ext. 2117
Dr. Clyde Gallagher is passionate about passion for leadership studies and community engagement. She has Doctor of Education in Educational Leadership from Florida Atlantic University. Dr. Clyde Gallagher is a lead facilitator for Kiwanis International's Key Leader High School Leadership Weekend program. She is also active in the community as a member of the Nevada City Council, Nevada Police Volunteers in Police Service, Vernon County Community Emergency Response Team, and a board member for Families in Crisis of Vernon County, supporting local domestic violence and sexual assault programs.
Jill Compton, Assistant Dean for Academic Affairs
147 RBAC
(417) 667-8181, ext. 2244
jcompton@cottey.edu
Dr. Compton provides administrative direction for the Serenbetz Institute, including overseeing the undergraduate research, leadership immersion, and summer leadership internship grant programs She earned a bachelor of arts degree in psychology and liberal studies from Maryville University of St. Louis and a Ph.D. in experimental psychology from the University of Tennessee-Knoxville. She joined Cottey in August of 2017 after serving as Associate Professor of Psychology and Coordinator of College Assessment at Culver-Stockton College in Canton, Missouri, and as Senior Fellow for Undergraduate Education, Transfer, and Student Success at the Kentucky Council on Postsecondary Education.
Jazzmin Miller
Independence, Missouri
Jazzmin Miller is a second-year student from Independence, Missouri. She is majoring in Psychology and minoring in Anthropology. Outside of her major and minor, she is interested in history, art (music, paintings, sculptures, photography, and architecture), and reading. She also enjoys being active and playing sports.  Jazzmin is looking forward to her study abroad semester next fall in New Zealand.
Cottey Favorite:  My favorite thing about Cottey is the meaningful and long-lasting relationships that are built here. I enjoy feeling the positive vibes that surround this campus. While doing my job, I would like to help maintain the positivity that is around campus. I am also looking forward to using and improving my communication and leadership skills.
Personal Definition of Leadership: A leader is someone who can lead themselves into success as well as others. I also believe that leadership takes characteristics such as accountability, perseverance, and integrity. I am excited to be working with you all this semester!
Yasmine Juhoor
Haute Marne, France
Yasmine Juhoor was born on Reunion Island next to Madagascar and Mauritius. She lived there until she decided for the rest of her studies to go to France mainland for high school in the House of Education of the Legion of Honor, a boarding school of excellence. Her first year as a high school student was not satisfactory in terms of grades, so she chose to go to the STMG section with subjects such as Management and Marketing. She thrives there and her results are exemplary. At the end of her schooling in Saint-Denis, she graduated with a baccalaureate degree with honors. She was given the opportunity to continue her studies in the United States at Cottey College.
During her time at Cottey, she has served as the president of Intersociety and vice president of the French club. She earned her Associate degree in Art in 2018 and is currently pursuing a bachelor's degree in Criminology with two minors, organizational leadership, and international relations. For her final year, she is completing an internship with the Nevada Police Department as well as another internship alongside Patricia Pike, a Republican Representative for Vernon County and a majority of Bates County (District 126) in the Missouri House of Representatives.
Cottey Favorite: What I love about Cottey is the multiple leadership opportunities that we have as students. We are able to apply for a grant (through the Serenbetz Institute) to participate in a conference, convention and other types of meetings that would expand our knowledge of global awareness, women leadership, and social responsibility. There are also trips that contribute to this knowledge like the annual trip to Jefferson City, where we meet politicians, Supreme Court justices, and non-profit leaders.
Personal Definition of Leadership: Leadership is a process that includes motivating people and working toward achieving a positive common goal. We also need to consider the difference between leadership and management. They are two different actions; although they both have the idea of guidance in the bigger picture.
Contact Serenbetz Institute for Women's Leadership, Social Responsibility and Global Awareness
1000 West Austin, Nevada, Missouri 64772
Phone: 417-667-8181 ext. 2116
Email: institute@cottey.edu