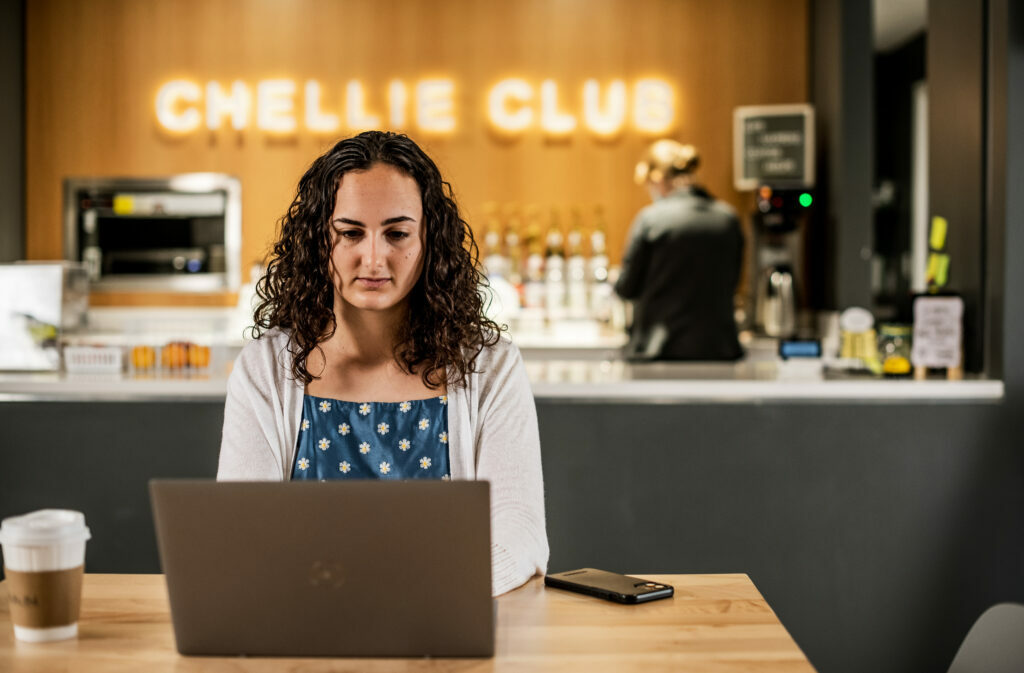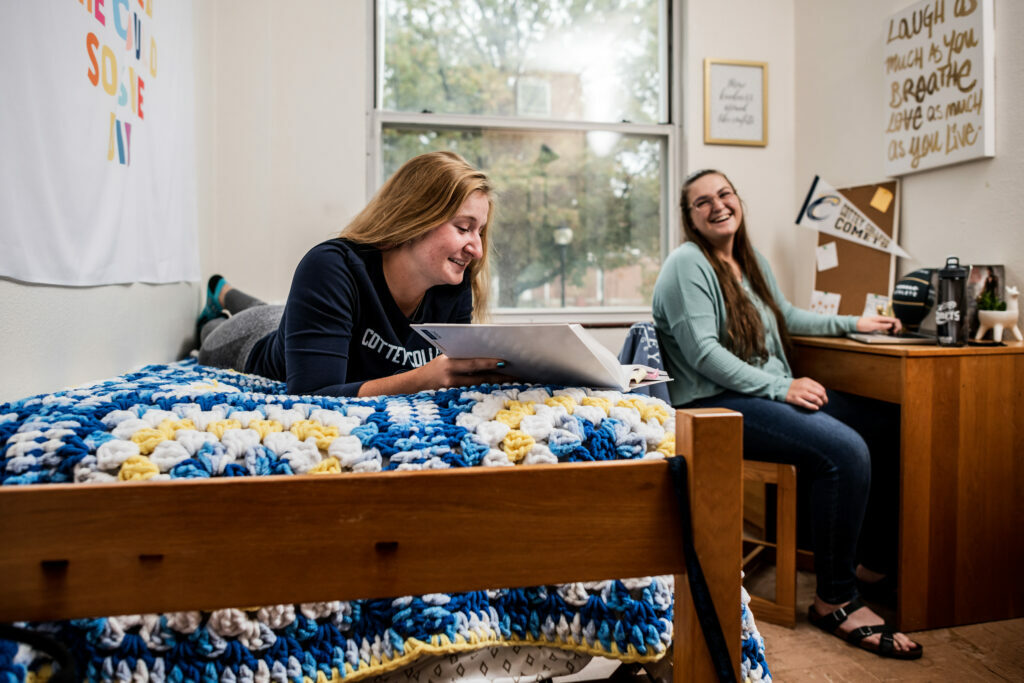 State Resources For P.E.O.s
SUPPORT-A-SUITE AND SUPPORT-A-STUDENT PROGRAMS
The support-a-student/suite program is coordinated by the individual state/district/provincial (S/P/D) Cottey committees. The Office of P.E.O. Relations and the Student Life Offices at Cottey do not have information regarding the assigning of students and suites. All questions regarding these programs should be addressed to the state Cottey chairmen or advisors. Please note: the College does not maintain records of which students/suites are sponsored more heavily than others.
STATE COTTEY COMMITTEE CHAIRMEN AND ADVISORS
You will be able to find your state/district/provincial Cottey Chairmen and Advisor information on your state/district/provincial website.
Historic Distribution of Students by State (PDF)
Chapter Resources for P.E.O.s
Cottey Cash may be used in the Chellie Club, Raney Dining Room, for shuttle reservation or event tickets, and in the Spirit Shop. Cottey Cash "dollars" are gift certificates that carry no cash value. No credits will be given for unused Cottey Cash.
Credit card orders may be placed by completing the online order form. Click Here for the form.
Monetary gifts of $50.00 or more to a student may impact her financial aid package. This does not apply to gift cards or Cottey Cash.
Please call the office of Institutional Advancement, at 417-667-6333, ext. 2120 to find out more information on how your chapters can put money into a fund that will go towards special needs such as a trip to the dentist, special school supplies, or personal athletic equipment.
Please notify the Office of P.E.O. Relations if a student contacts you requesting money. The College will assess the student's needs and will proceed accordingly.
Cottey's student body is made up of students from over 40 states and 15 foreign countries, so many students are a long way from home. Hearing from P.E.O. s from their states can be a great way to help students keep connected to home and reduce homesickness. Most Cottey students are in their late teens and early twenties, so keep in mind young people's tastes when compiling your care package. Here are some suggestions for keeping connected:
Send birthday cards.
Send care packages.
Students really appreciate receiving the following items:

snack food, such as single-serving microwavable macaroni and cheese, chips, breakfast bars, crackers, candy, gum, and cookies
spiral notebooks, pens, scotch tape
body lotions, hair products (shampoos, conditioners, gels)
coffee, tea, and beverage mixes
laundry detergent and softener
stamps
laundry pods
dryer sheets

Students also appreciate Spirit Shop gift certificates. The Cottey Spirit Shop has a variety of merchandise including clothing, bags, cups, and much more! Order gift certificates from Cottey's bookstore online. Orders may be placed by completing an order form. Click here for the form.
Purchase a gift card to from one of the national chain restaurants that students have in Nevada. The following national chains are located in Nevada and accept gift certificates: Domino's Pizza, Pizza Hut, McDonald's, Burger King, Sonic, and Walmart. You may purchase these gift cards at your home store and mail the certificate to the student. The closest Starbucks and Target locations are 60 miles south.
Here is a list of ideas for care packages!
Purchase Finals Week Care Packages through the Office of Student Life at the following link: Order Finals Week Packages.
Please order by Thursday, November 17, 2022, for fall and Thursday, April 20, 2023, for spring. Online ordering is available from August 1-November 17, 2022, for the fall semester and February 1-April 20, 2023, for the spring semester.
To order by phone please contact Ms. Shaun West at 417-667-6333, est. 2126.
The cost is $25. Packages include chips, nuts, cheese and crackers, gum, full-size candy bars, granola bars, two pieces of fruit, usually an apple and an orange, along with a variety of other snacks. Care packages are distributed to the students before studying begins for finals week!
All proceeds from the sale of finals week care packages support the Nancy Denman Student Life Scholarship, awarded annually to one or two Cottey students. Dr. Denman was the coordinator of counseling at Cottey, an alumna, and a P.E.O. She lost her fight with breast cancer in January 2005.
Members of P.E.O. Chapter DW in Nevada, Missouri, are ready to help. We will bake a cake and deliver it to your student. For $20, you can choose either a frosted 9×13 rectangular cake or an angel food cake to be delivered to your student's residence hall on or near her birthday or other special occasion. To request a cake, contact Cindy Wynn by mail, 173 Country Club Dr., Nevada, MO 64772, by email at wynncindy1950@icloud.com; or telephone 417-684-7304. Send your check, made payable to Chapter DW, to Cindy Wynn. Click Here for more information.
Additional Information
SUGGESTED P.E.O. SCHOLARSHIP TIMELINE
Thank you for all you do to help make a Cottey education affordable for our students. We recognize that each S/P/D has their own way of deciding and distributing scholarship funds and are very grateful for your efforts. Listed below are a few suggestions to help align your award schedule with the timeframe in which students receive financial aid information from the colleges they are considering. We hope this information will be helpful to you as you perform your volunteer duties.
If you are responsible for awarding P.E.O. scholarships to Cottey students, this information is for you even if you don't have the title of Scholarship Chairman. If you have questions, please contact the Cottey financial aid office at 417-667-8181 ext. 2190 or by email at financialaid@cottey.edu.
SCHOLARSHIP APPLICATIONS:
November to January – distribute scholarship applications for following academic year.
February – review submitted applications and make award decisions.
March 1 (or as soon as possible) – email the Cottey financial aid office the scholarship award winners. Please include student names and scholarship amounts. It may be helpful to include a spreadsheet if scholarships are coming from multiple funds/sources.
April to August – email the Cottey financial aid office if there are any changes to the original scholarship awards. Complete all of the necessary steps to request funds, especially funds held at P.E.O. Foundation. Case history forms must be submitted electronically to the Foundation. Questions? Call the Foundation at 515-255-3153.
AUTHORIZING DISBURSEMENT OF SCHOLARSHIP FUNDS:
Late August for fall semester AND early January for spring semester – authorize disbursement of scholarship funds to Cottey.

For funds held by State Chapter – contact the treasurer/appropriate officer in your state to have funds disbursed to Cottey. To verify enrollment of students, contact the financial aid office. Checks should be made payable to Cottey College and sent to the financial aid office with a listing of student names and amounts so the funds can be applied correctly.
For funds held at P.E.O. Foundation – the Foundation will verify enrollment of the students directly with Cottey prior to disbursement.
CONNECTING WITH STUDENTS
Please do not send packages or letters through the College for Study Abroad or online students, as we may not forward mail or packages.
When addressing mail or packages to an individual student or to a suite, please address them using the following formats.
When addressing mail to a student, please format the address as
(Student Name)
(Residence Hall)
COTTEY COLLEGE
1000 W. Austin Blvd.
Nevada, Missouri 64772
When addressing mail to an entire suite, please format the address as
(Suite Name)
COTTEY COLLEGE
1000 W. Austin Blvd.
Nevada, Missouri 64772
All mail for commuter (non-residential) students should be addressed to their local address, if you know it, or as indicated below.
(Student Name)
Commuter Student
c/o Student Life Office
COTTEY COLLEGE
1000 W. Austin Blvd.
Nevada, Missouri 64772