The annual faculty and staff holiday luncheon at Cottey College kicked off with a surprise announcement by Cottey College President Dr. Jann Weitzel that brought everyone to their feet.  "I am pleased to announce a $500,000 gift to the College from Mrs. Sophia Zetmeir of Parsons, Kansas, for the renovation of the parlors in Cottey's residence halls."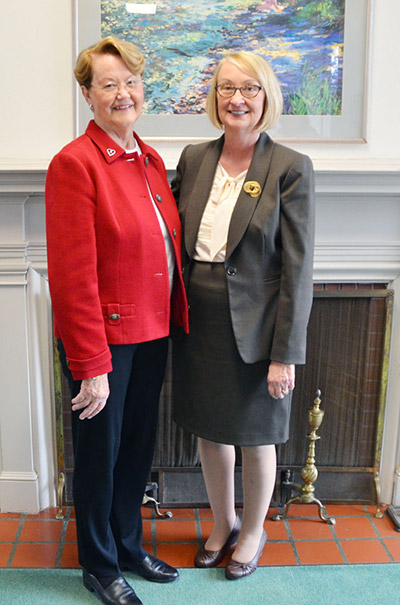 Dr. Jann Weitzel and Mrs. Sophia Zetmeir
"Cottey's parlors haven't been renovated in at least 40 years," said Dr. Weitzel. "The last renovations created more formal areas for socializing. Now, those parlors primarily serve as a pass-through space and are not locations that engage the students of today. We believe that the redesign of these common areas in the halls will create a synergy for residential life on campus by creating spaces our students will want to gather for club and organization meetings, study groups, and socializing."
Dr. Weitzel added, "As part of the renovation, the designation of "parlor" will be replaced with a more contemporary name befitting the space."
Sophia Zetmeir, and her late husband Sonny, were generous benefactors during Cottey's A Defining Moment Campaign. Their philanthropic interests span local, state, and national causes including Labette Community College, the Nelsen-Atkins Museum of Art, kitchens for Habitat for Humanity across the United States, Big Brothers Big Sisters, and their church among others.
Zetmeir is a member of the P.E.O. Sisterhood and Chapter BS, in Parsons, Kansas.  She is Kansas past state president of P.E.O. serving in 1998-1999.
Architects GastingerWalker& have been retained to design the new parlor areas. They will hold focus groups with students after the first of the year. The goal is to begin renovating the parlor in P.E.O. Hall, which is the oldest residence hall on campus, first with construction beginning in summer 2018. GastingerWalker& designed the Judy and Glenn Rogers Fine Arts Building completed in 2015.
Contact Cottey Institutional Advancement at advancement@cottey.edu for questions about giving.
For more information contact Carla Farmer, Marketing and Strategic Communication, at 417-448-1418.