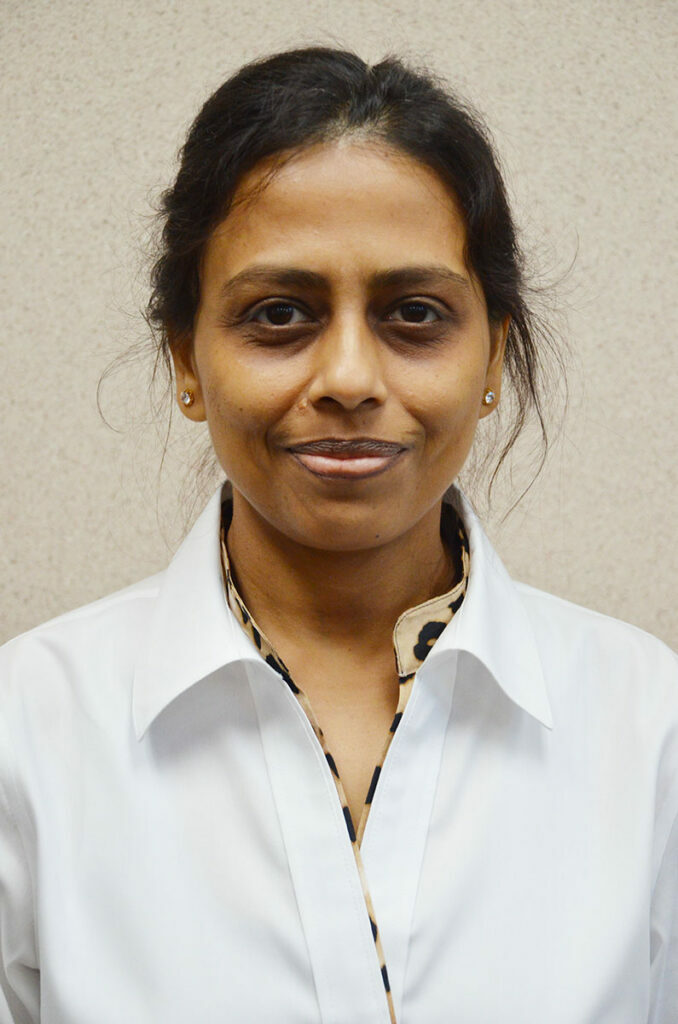 MANJIRA GHOSH KUMAR, PH.D.
ASSISTANT PROFESSOR OF BIOLOGY AND CHEMISTRY
Dr. Kumar earned her Bachelor of Science degree from the University of Calcutta in India, her Master of Science degree from Kalyani University in India, and her Ph.D. from The Catholic University of America in Washington, D.C.
Additional Information
Publications
Venkata R. Kolli; Gautam K. Ginjupalli; Manjira Ghosh Kumar; Nandani D.P.K Manne; Michael D. Hambuchen; Eric R. Blough; and Kevin M. Rice, The in vitro Effectiveness and Toxicity of a Quaternary Ammonium Compound as an Antimicrobial Finish on Denim: International Journal of Textile Science and Engineering. Published date: 15 August 2018.
Manjira Ghosh Kumar; Tanfis I. Alam; Bonnie Draper; John D. Stack; and Venigalla B. Rao, Regulation by Interdomain Communication of a Headful Packaging Nuclease from Bacteriophage T4: Nucleic Acids Research. 2011 Apr; 39(7):2742-55.
Abdulrahman S. Al-Zahrani; Kiran Kondabagil; Song Gao; Noreen Kelly; Manjira Ghosh Kumar; and Venigalla B. Rao, The Small Terminase, Gp16, of Bacteriophage T4 is a Regulator of the DNA Packaging Motor: J Biol Chem. 2009 Sep 4; 284(36):24490-500.
Tanfis I. Alam; Bonnie Draper; Kiran Kondabagil; Francisco J. Rentas; Manjira Ghosh Kumar; Siyang Sun; Michael G. Rossmann; and Venigalla B. Rao, The Headful Packaging Nuclease of Bacteriophage T4: Mol Microbiol. 2008 Sep; 69(5):1180-90.
Research
Dr. Kumar studies aquatic, photosynthetic microorganism called cyanobacteria (blue-green algae) which have the distinction of being the oldest known fossils. This large group of bacteria, that survived billions of years of evolution, provide a unique model system to study environmental pollution. Her lab focuses on the biochemical, molecular, and phenotypic changes within the bacteria due to the exposure of surface waters or other chemical toxins such as antibiotics, and anti-inflammatory drugs.
Dr. Kumar is also a member of the American Chemical Society (ACS).