Cottey Seminar 2022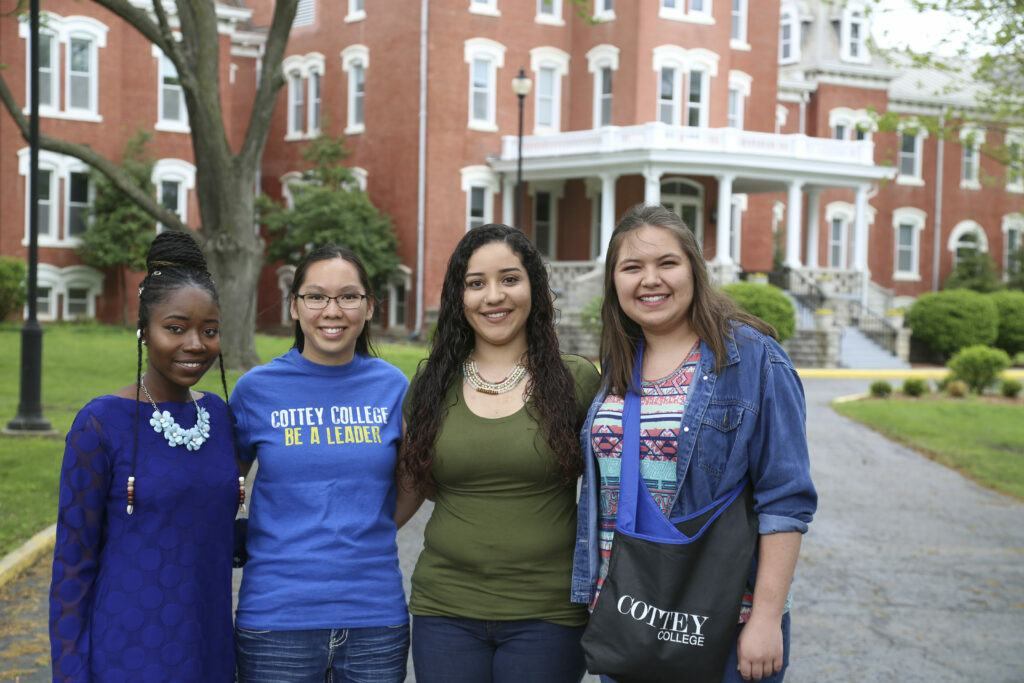 Dear Seminar Attendees,
We hope your time attending Cottey Seminar was a memorable experience! Two and half days are just the start of all there is to know and appreciate about Cottey College. The resources, workshops, and presentations shared below contain the key points of each presentation. If there are questions about the content, please feel free to contact us in Institutional Advancement at peorelations@cottey.edu, or by phone at 417-667-8181 extension 2120.
Presentations and Resources
Presidential Welcome video: Cottey is Incredible
Academic Opportunities and Support at Cottey
Cottey is Committed! In this workshop, Seminar attendees will learn more about the academic experience at Cottey and the support structures in place for our students.
P.E.O. Events
Cottey is Community! In this workshop, Seminar attendees will hear about the various Cottey-sponsored events, both on and off campus. Learn about Vacation College, P.E.O. Visit Day, Cottey presence at P.E.O. conventions and Convention of International Chapter.
Championing Our Athletics
Cottey is Empowering! In this workshop, Seminar attendees will learn the ins and outs of the Cottey athletic program, from the student athlete experience, to how our athletes are Champions of Character, and how you can be part of the Cottey Champions Club!
Taking Cottey into the World
Cottey is Globally Aware! This workshop explores all the ways Cottey is involved in the global community, from study abroad, to the International Experience, and other opportunities on campus.
Promoting Cottey to Prospective Students
Cottey is Incredible! This workshop examines the ways and means Cottey enrollment finds our future students. Learn about how today's student learns about Cottey and how you can contribute to a woman's incredible future!
International Students (and Canada)
Cottey is Globally Aware! In this session, attendees learn the ins and outs of international students at Cottey, from recruitment to financial aid, and support for these students once on campus.
Experiential Learning: Hands-On Labs
Cottey is Academic Excellence! This workshop explores the many ways the College prepares our students for the real world. Learn more about experiential learning at Cottey and the applications of our various laboratories: stock trading lab, education lab, entrepreneurial lab, cadaver lab, and psychology lab.
Experience of Education
Hear from Academic Affairs and Student Life regarding the Cottey student experience.
Philanthropic Support
Cottey's magic happens through more than tuition funding. Learn how philanthropic support at Cottey helps keep our mission going.
Student Support at Cottey
Cottey is Empowering! Student welfare is more than a robust academic experience. At Cottey, our students have access to many services directed toward health and wellness. Learn more about the wellness side of the Cottey experience and about the various services Cottey offers.
The Suite Life
Cottey is Community! For our students, suites become a home away from home. With careful stewardship, Cottey students enjoy a seamless residential experience. This workshop explores how that experience becomes a reality, through suite endowments and other forms of support.
Scholarship Q&A
Cottey is Committed! Repeatedly ranked for value and affordability, Cottey is a financially competitive choice for every student. This workshop will explore how financial aid, scholarships, grants, and P.E.O. work together to help fund our students.