Traditions
Life at Cottey is rich with traditions – some fun, some whimsical, and some poignant. They create powerful bonds from shared experiences that can last long after graduation. Maybe that's why our alumnae stay so connected to each other and to us.
The great thing about Cottey traditions is that you can pick and choose the ones that are meaningful to you. You're not forced to participate, but we're betting you'll find at least one that you'll want to be part of.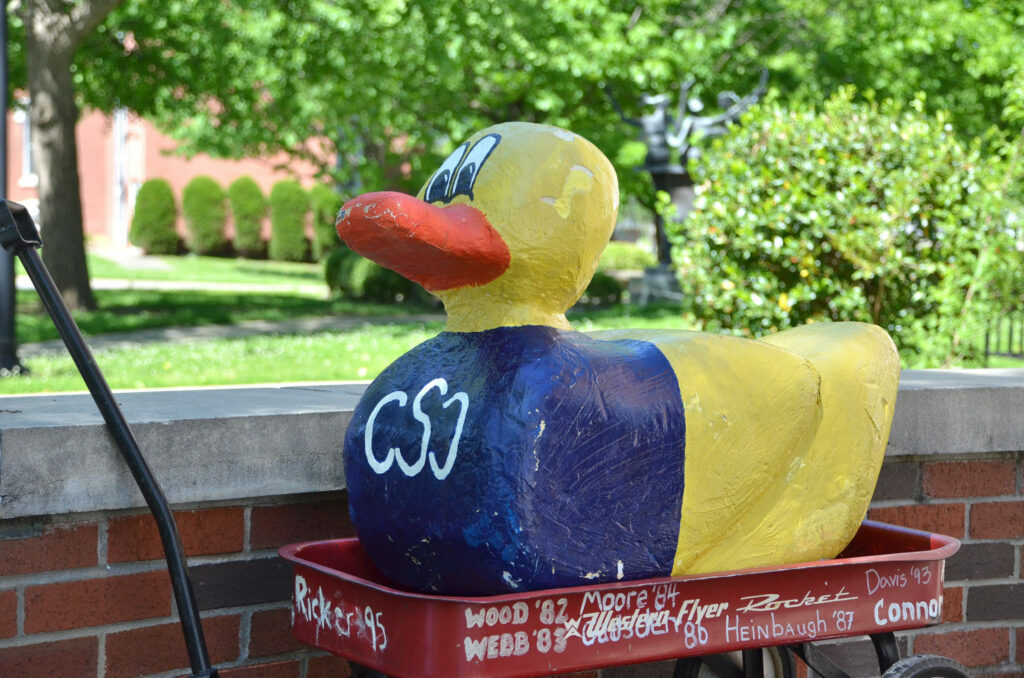 Ducks
Ducks are an unofficial mascot at Cottey. Many of our more lively traditions are centered around ducks, especially Hermatrude (pictured left), a paper mache duck made by Cottey students in the 1950s.
Hermatrude is the subject of a campus-wide game of hide-and-go-seek. She pops up in the strangest places! When a student finds Hermatrude, she can then hide the duck in a new location. Adding to the fun, the alumnae like to play when they are on campus-there are many stories of alumnae sneaking off with Hermatrude amidst a group of unaware students.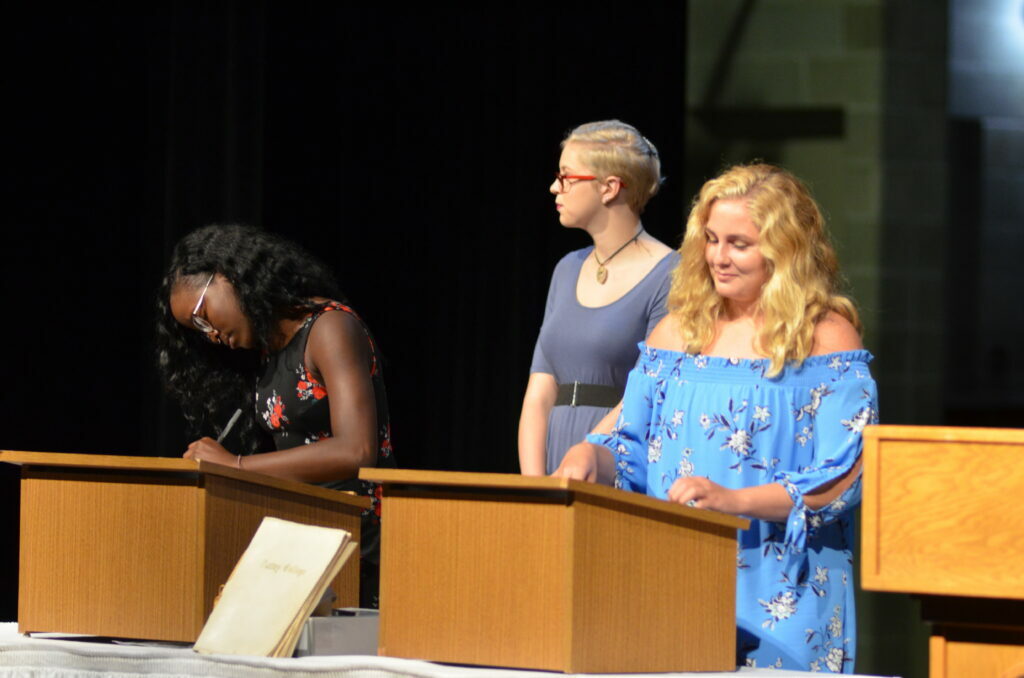 Signing of the Cottey Book
Since 1935, students have signed their names into the same book during Cottey's Opening Convocation Ceremony. This signing is symbolic of the student's commitment to academic honesty, the values of the College, and cooperation for the good of all. Each student then receives a daisy, representing their entrance into Cottey.
Having students sign the Cottey Book connects them to the generations of women that have come before them, and those that will come after them. Cottey has a strong community, where students are supported by alumnae and friends of the College. The signing of the Cottey Book is one of the many traditions that solidify this connection.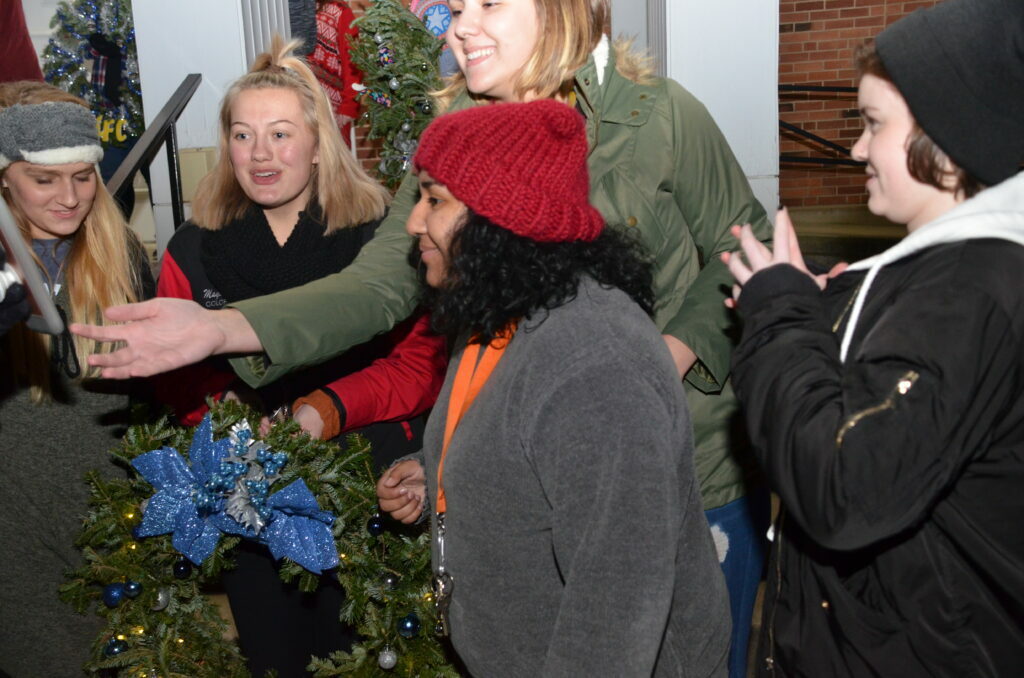 Hanging of the Greens
Hanging of the Greens is Cottey's winter holiday celebration. On the first day, students hang wreaths around campus before retiring to the president's house for cookies and hot cocoa. It's always a fun time for students to walk with their friends, singing songs and spreading holiday spirit, while beautifying the campus.
The second day of hanging of the greens is a formal dinner. Students are encouraged to wear formal dresses as they start the night with hors d'oeuvre, then move to a fully-decorated dining hall for dinner, pictures, and plenty of holiday cheer.
Cottey realizes some students may not have formal gowns, so the College has a closet full of them, for every shape and size. The dress closet is one of many small examples of the College taking extra steps to make sure its students are cared for, and don't miss out on the fun.
More Cottey Traditions
The daisy holds a special place in Cottey's history. It was the flower the first young women who attended Virginia Alice Cottey Stockard's college voted to represent them both in the College's colors yellow and white and as its official flower. That flower and those colors are still part of Cottey's tradition today. You'll encounter the daisy as a recurring theme throughout the Cottey experience. Coincidentally, the marguerite, which is similar to a daisy, is the flower chosen by the founders of the P.E.O. Sisterhood.
The College sponsors a number of events annually that build camaraderie, recognize excellence and service, and celebrate achievement.
CAPPING
The evening before Commencement, sophomore graduates clad in white gowns, and senior graduates clad in royal blue gowns, are "capped." This tradition dates to the early days of the College when each graduate selected one younger student to place the traditional mortarboard upon the head. Today, each graduate selects two or three other students or other individuals of any gender who are special to the student. This ceremony is held on the front steps of Main Hall, weather permitting, with cappers traditionally dressed in white dresses or slacks or white shirts and khaki pants.
COMMENCEMENT
On Sunday morning following spring final exams, Cottey celebrates Commencement, a festive ceremony that recognizes and honors Cottey graduates and Cottey as a learning community. Graduating sophomores in white caps and gowns and graduating seniors in royal blue caps and gowns assemble on the Senior Sidewalks in front of the Chapel and carry daisies (associate degree graduates carry a single daisy; baccalaureate degree graduates carry a cluster of daisies). First- and third-year students, wearing white dresses, form two lines beginning at the front doors of Hinkhouse Center and extending onto the esplanade. Graduates march from the Senior Sidewalks and are joined by faculty and staff along Austin Street and proceed to the esplanade, where they pass through the column formed by the first- and third year students. Following the Commencement ceremony recessional, first-year students pick up a single daisy placed in the basket by second-year graduates and form the traditional Daisy Chain through which the new graduates to pass. Third-year students present second-year students pursuing a baccalaureate degree at Cottey a cluster of daisies symbolizing their entrance into the B.A. program.
FAMILY WEEKEND
Early in the fall, family members are invited to campus for a weekend of special activities. The first Family Weekend was held in 1984.
FORMAL DRAWING
Held at the beginning of the fall semester, each freshman is chosen at random or by legacy to become a member of the Alphan, Delphian, Emerson, or Magnoperian Socieities.
FOUNDER'S DAY WEEKEND
Founder's Day is celebrated each year in late March or early April. The observance began while the College's founder, Virginia Alice Cottey, was alive. It was originally a celebration of her birthday which is March 27, 1848. Today, alumnae return to visit their alma mater, attend special events, and renew friendships.
SIGNING OF THE COTTEY BOOK
During Opening Convocation each fall, all new students participate in this ceremony of honor. Signing of the Cottey Book signifies personal and academic honesty, commitment to the values of the College, and dedication to cooperation for the good of all. New students have signed the Cottey Book since 1935.
The Owl
Olive the Owl is the mascot of the Baccalaureate classes (juniors and seniors). The owl represents "Older Wiser Learners." She was named during Founder's Weekend 2015 by a vote of the alumnae in honor of Olive Gatewood, the first alumna of Cottey.
The Duck
The duck is a much older tradition, originating during the time Cottey was a two-year institution and called its second-year class 'seniors.' Legend has it that years ago when the College was first founded, some senior girls came upon a duck stuck in a frozen pond near the campus.
The seniors rescued the duck, and the duck became the official mascot of the Cottey senior (second year) class. Fast forward a few decades, and now you'll see ducks – mostly the yellow kind you find in your tub – have proliferated on Cottey's campus. You'll see them in faculty and staff offices and around all the student living areas.
Duck and Owl Traditions-The Ones that Aren't Secret
The Duck Game
The Duck Game is an informal tradition carried out by students, which is based on a rivalry between classes. Participation in this activity is optional, and the rules and details are clearly presented. The rivalry has its origins in the early years of the College when some "seniors" rescued a duck from the icy pond. The Duck Game, as with most Cottey traditions, has evolved through the years.
Duck Jackets (DJs)
Jackets with a duck painted on the back are worn by members of the second-year or sophomore class. Again, we're not going to give too much away about how these jackets are created or what happens with them as that's part of their mystique and a special ritual for students. What we can say is that these jackets get to be pretty elaborate (see the photo gallery), and they're worn by sophomores during certain traditions.
Professional Jackets (PJs)
PJs are blazers with an owl painted on the back and worn by members of the baccalaureate classes during certain traditions.
Each class at Cottey has a number of special traditions. Whether you're a freshman, sophomore, junior, or senior, you'll have the chance to get involved and represent your class proudly.
BABY BLUE
The baby blue sweatshirt is worn by members of the first-year or freshman class.
CAMPUS WORK DAY
A day set aside in the spring to revitalize the campus.
CSC
CSC is the logo for the second-year or sophomore class at Cottey College. It is imprinted on sweatshirts and other Passdown items. Prior to Cottey becoming a four-year institution, the second-year students were called "seniors" because, in early years, the College had grade-school and high-school programs. The students in the junior college were called juniors and seniors. In 1967, many years after the grade school and high school were closed, the juniors came to be called freshmen. With the addition of baccalaureate programs, students and their respective classes are now referred to as both first-, second-, third-, and fourth-year students/classes and/or freshmen, sophomore, junior and senior students/classes.
FCC
This logo represents the first-year or freshman class at Cottey College, and it is imprinted on sweatshirts and other items.
MEET THE SUITES
The residence hall officers organize "Meet the Suites" in their respective residence halls so new students can meet the students from the various suites in their residence hall.
PASSDOWNS
A passdown is any object that is passed down from year to year to be worn, displayed, or used in any fashion. Passdowns are not only pieces of living history but serve to give encouragement and faith in living the Cottey experience.
SOCIETIES
The four societies are Alphan, Delphian, Emerson, and Magnoperian. In the early days of the College, the societies were organized as literary groups whose members read and discussed great works of literature. Later, the societies were used as a way to divide teams for intramural sports. Today the Inter-Society Council, made up of representatives of each society, coordinates campus events such as Signing of the Cottey Book, Formal Drawing, and Hanging of the Greens. Each society also participates in a volunteer service project and its own fund-raising and recognition activities.
SPUH (S.P.)
SPUH is a term for a secret pal. Within the residence halls, each current student draws a new student's name at random. The current student begins leaving friendly and encouraging notes for the new student. Each set of secret pals selects names that they will use to identify themselves, e.g. Peanut butter and Jelly or Gumby and Pokey. The current student decides at which point in the year to reveal her identity. Some new students select a current student as a "reverse spuh," and the process is reversed. This tradition grew out of the Big Sister/Little Sister tradition of the 1940-50s and was originally between seniors and freshman when Cottey was a two-year college.
QUAD-C WEEK
Quad-C is an acronym for "Cottey College Community Chest." During Quad-C Week, entertaining activities are organized to raise money for selected charities. Rotaract sponsors this week. This event began at Cottey in the late 1940s as W.S.S.F. Week (World Student Service Fund). From 1954 until the 1970s, it was known as W.U.S. Week (World University Service).
Maybe it's the place, maybe it's the experience, maybe it's the fact that we love to have fun. Whatever it is, we like to burst into song, dance, and occasional theatrics.
DOTTEY COTTEY
One of Cottey's most humorous traditions is when the sophomores dress up in their version of the old-fashioned Cottey ideal. Dottey Cottey goes back to 1940 when Doris Kingsbury Gayzagian, Class of 1942, created the character to illustrate a typical Cottey student in the student newspaper. From that time onward, Dottey took on a life of her own, appearing in publications, calendars, note cards. She was incarnated into a doll, and her likeness even appeared on lapel pins. Today seniors dress up as Dottey to emulate their version of the old-fashioned Cottey ideal.
EMANON
Emanon is a nightclub-style class fund-raiser complete with skits, spoofs of campus happenings, and songs. At this event, the sophomores, juniors, and seniors show their appreciation and love towards the freshmen.. One thing's for sure…you are bound to laugh.
SERENADES
Serenates occasionally occur in the evening when one class sings to the other class. Songs are both humorous and serious. Serenades can be a touching and sentimental experience and strengthen the bonds among students.
Or, come evening, don't be surprised to hear a group of sophomores break out into song in front of a group of freshmen, or to see freshmen singing to sophomores, juniors and seniors. Serenades are a loved tradition at Cottey and can either bring you to tears or make you burst out laughing; either way you'll love the experience.
STEP SING
Step-Sing is the introduction of second-year/sophomore class songs and the duck as the second-year/sophomore class mascot to the first-year/freshman class. This is where freshmen are let into some of the sophomore and senior class' secrets. They get to hear the songs for the first time, learn more about the class mascots (the aforementioned duck and owl) and get a look at those duck jackets and professional jackets.
Food is an important part of Cottey life, especially as a celebration. There are a number of traditions tied to food.
CENTENNIAL ROOM DINNER
Most suites on campus have the opportunity once every other year to dine in the Centennial Room. A special menu is planned and student dress is semiformal. Centennial Room is the name given to the room in 1984 when it was redecorated in honor of Cottey's centennial. Prior to 1984, the room had red carpet and dishes and was called "Red Room." It is the goal of the College that every residential Cottey student shares in this dining experience.
FUN. DINNER
This dinner marks the official end of the Duck Game.  The sophomores keep the details of this tradition pretty close to their vests. Let's just say it marks the official close to the Duck Game for the academic year.
SATURDAY NIGHT SUPPERS
Held usually during Founder's Weekend or by special arrangement, Saturday Night Suppers are Cottey's version of The Sing-Off where students sit with their classmates in the dining room and sing class songs back and forth.
SUITE FEED
Suite feeds are sometimes held on Sunday evenings in the suites. The students plan and prepare their own meal, spend time together, and just hang out. Suite feeds are held with varying degrees of regularity, depending on the wishes of the students in each suite.
BLUE & YELLOW DINNER
On Friday night before Commencement, graduates are honored at this event, parents and guests are invited to attend this special meal.
As you might expect, holiday seasons are a special time at Cottey. Halloween and Christmas are particularly memorable on campus.
HALLOWEEN
Halloween is celebrated in the residence halls. Hall officers work together to plan this fun event. Whether a scavenger hunt or haunted house—you are sure to have frightful fun! Halloween might also be your best chance to see Vera, Cottey's official ghost. In 1920, when Cottey had a high school for women, high school senior Vera Alice Neitzert died tragically on May 17 of severe burns received when her nightgown caught fire while she and friends were making candy in a chafing dish in a suite sitting room in Main Hall. Fifty years later the legend of Vera the ghost took hold when students practicing piano in Rosemary Hall heard strange noises. Even though Rosemary Hall has since been torn down, the fire occurred in Main Hall and Vera died in the hospital in Nevada. The legend of her ghost still remains.
TEARING OF THE SQUARES
During the days leading up to finals and winter break, students will gather in the parlor of their respective residence halls each evening to count down the days until winter break begins.
SUSPRISE
Susprise is a Christmas tradition that is planned by sophomores, juniors and seniors for freshmen.
HANGING OF THE GREENS
In early December, students mark the coming holidays with a weekend of activities that start with a chapel service and the hanging of wreaths decorated by various student organizations. As each wreath is hung at a building, students sing carols. When the final building is adorned, everyone heads to the President's House for snacks and warm drinks. On Saturday of the Hanging of the Greens weekend, the party gets in to full swing with an awesome buffet dinner that's followed by a formal dance. The greens hang through finals.